Restaurant Credit Card Promotions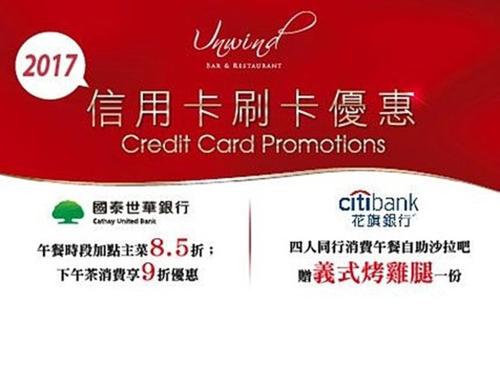 Cathy United Bank
Present and save! Cathy United Bank credit card holders are eligible for a 15% discount on lunch and a 10% discount on afternoon tea set.
Promotion Details:
Promotion Period: 2017/1/1-2017/12/30
Total bill must be paid via a Cathy United Bank credit card
Additional 10% service charge on pre-discounted balance
Promotion not valid on special dates - please contact restaurant for details
Promotion cannot be combined with other packages or deals
Reservation must be made at least one day in advance
Promotion details is subject to change without notice
CitiBank
Come enjoy the savory lunch buffet at Unwind Restaurant & Bar! Dine with three other friends and pay with a CitiBank credit card and receive a complimentary "Roasted Chicken with Tomato Sauce" main entree.
Promotion Details :
Promotion valid for CitiBank credit card holders only
Additional 10% service charge on pre-discounted balance
Promotion not valid on special dates - please contact restaurant for details
Promotion cannot be combined with other packages or deals
Reservation must be made at least one day in advance
Promotion not available for group of 20+ people or exclusive events
Promotion details (main entree selection) is subject to change without notice